TRAPPER'S POST
Exclusively Trapping
I would recommend Trapper's Post to all trappers. It's a lot of info for the money . . .



Trapper's Post is published and edited by leading writer and trapper Bob Noonan. Each of our seven yearly issues is tabloid sized (10½"x12½"), and packed from cover to cover exclusively with trapping information.
Trapper's Post provides in-depth articles with detailed information and clear photos and illustrations, to help readers become more effective trappers. Some articles are by recognized experts, others are by excellent trappers known only to a handful of people. As Bill Nelson said, "Some of the best trappers in the country never saw their names in print." They are now, in our pages. So are regular trappers, who have valuable observations and stories to share.
Trapper's Post offers much more than how-to trapping methods. We have articles on lure and bait making, fur handling, equipment, trapline experiences, interviews, humor, atmosphere, history and heritage, news, and more.
Although rooted in North America's history, trapping is a vital, modern, changing profession. Trapper's Post keeps you current with changes in equipment, methods, the fur market, legislation, and more.
• Fur Market Report with Mike Wilhite - A current in-depth analysis of the international fur trade that is the acknowledged best market report in the industry, by the acknowledged best analyst.
• Western Trapline With John Graham - A professional predator control agent, fur trapper, and lure maker shares experiences and observations.
• Canadian Trapline with Jim Gibb - A professional fur trapper describes life on a registered Canadian wilderness bush trapline.
• Fur Handling - Experts describe methods to increase pelt value.
• Pelt Perspectives - A wider, very comprehensive view of the fur trade overall.
• Southern Trapline With Don Shumaker - A professional fur and ADC trapper shares his unique experiences and expertise southern style.
• Trapper's Post Interview - A different fur industry personality each issue.
• ADC - Animal Damage Control experts reveal professional knowledge.
• Trapline Photos - Reader trapline photos.
• Cut to the Chase - Question & Answer forum.
• Young Trapper - Trappers 16 and under share their adventures.• News Report - News affecting, informing, and entertaining trappers.
• Calendar of Events - Conventions, auctions, training events, etc.
• Association News - Submitted by state trapping associations.



Trapper's Post
P.O. Box 129, Canaan, Maine 04924
Phone: 207.660.2380 Fax: 207.474.0940

Trapper's Post has space available for all types of advertising. See our Advertising Page for details.

Current Issue
May/June 2018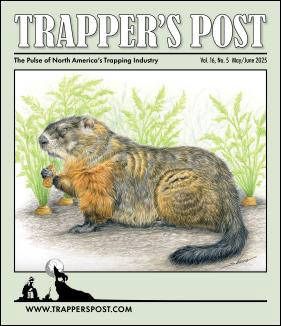 The Pulse of North America's Trapping Industry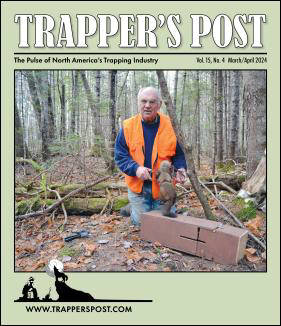 Trapper's Post Regular Departments