TRAPPER'S POST
Exclusively Trapping
Free shipping on all items!

Bottom Edge Mink Trapping & Coyote Trapping 101 DVDs








In the first half of this 2-hour DVD , Bob Noonan and Mike Wilhite demonstrate a very effective combination marten/fisher set with the 5x5 and #155 on a northern Maine wilderness line. You'll see set locations, marten and fisher catches, moose, and Canada Jays eating out of Mike's hand.
In the second half of this DVD , well-known Maine trapper and fur buyer Jerry Braley, who has handled 3,000-plus fisher and 4,000-plus marten, demonstrates and describes in depth, detailed, step-by-step fur handling methods for both these valuable furbearers. These techniques apply to many other furbearers, making this also an ideal video for both beginning and experienced fur handlers. 2 Hours.

Marten/Fisher Combo
5x5/155 Set and Fur Handling by Bob Noonan
Marten and fisher often share the same habitat and are attracted to the same baits and lures, but because of their very different body size, finding a trap that captures both consistently at the same set has been a problem. But now there is a trap size that will consistently catch both species: The new 5x5 and #155 double spring bodygrippers, which have full 5-inch inside jawspreads. This trap is also effective on raccoon and groundhog as well as mink and muskrat.
Have you been convinced that coyote trapping is very complicated,
requiring lots of equipment, lures, and baits, and mastery of a
bazillion techniques and details? Are you confused by the
endless, sometimes contradictory advice given by countless
alleged coyote "experts"? Have you bought into the coyote's
mystique of supposedly being "intelligent" and very difficult to
"outsmart"? Too many trappers get overwhelmed by the
supposed complexity and difficulty of coyote trapping. Some
give up after their first efforts fail. Others are actually too
intimidated to even try.

The truth is, many coyotes are easily caught with simple, basic methods, and little equipment. Professional trappers with thousands of coyotes to their credit use uncomplicated methods and minimal equipment. COYOTE TRAPPING 101 explains and shows those simple basics in the close, clear detail all Bob Noonan's videos are known for. COYOTE TRAPPING 101 covers: Traps (19 still photos of different makes, models, and sizes, with detailed descriptions and comparison.) – Equipment (These five simple tools can do it all.) - Lure and Bait (An uncomplicated but deadly combination.) - Dirt Hole Construction (Clear, close footage and detailed step-by-step explanation of exactly how to make this standard, lethal coyote set. Hole and bed digging, staking, trap positioning, bedding, foot guides; it's all here. All of it.) - Location (Footage of a number of coyote catches and locations from Bob Noonan's trapline, along with 10 full-screen, detailed pen-and-ink diagrams of these productive locations, and in depth explanations of how and why they worked.)

COYOTE TRAPPING 101 is the only video that explains all aspects of the basics of coyote trapping. Professional coyote control agents and fur trappers depend on these simple essentials to make big catches. Once you understand them, you will catch coyotes. 1 hour, 55 minutes.
Coyote Trapping 101 DVD - The Simple, Effective Basics with Bob Noonan


Foothold Trap Adjustment and Treatment
Special Focus on Canine Traps
With Bob Noonan

Trap adjustment produces consistent solid foot catches. Trap treatment preserves traps, make them fire faster, and makes them odorless, essential for coyote and fox. In this video:

• De-greasing new traps in preparation for treatment
• Removing old wax from previously treated traps
• Removing heavy rust from neglected traps
• Adjusting pan height and pan tension
• Shaping dog/pan notch (including Night Latch)
• Adding staking hardware
• Treating with gasoline-based dips
• Treating with dye and wax

Proper trap adjustment and treatment are important for all furbearers, but odorless traps are essential for canine trapping. Foothold Trap Adjustment and Treatment shows, step-by-step, exactly how to do it.
1 hour, 20 minutes




Coyote 101 and Foothold Trap Adjustment and Treatment
Save $10
This CD is an invaluable reference tool, an encyclopedia of educational and entertaining trapping articles from North America's No. 1 trapping publication. These 25 issues contain 253 feature articles and 296 department articles, for a total of 549 articles, written by well known professionals like John Graham, Mike Wilhite, and others, but also by little known experts who have shared their knowledge in print for the first time.

• All issues from the first four years, from the inaugural September/October 2009 issue to the July/August 2013 issue, including our April 2013 Youth Edition.
• PDF files, showing each page exactly as it appeared in the magazine, in full color.
• Easy to navigate: click on the folder for the year, the issue you want, and the article in the table of contents.

The First Four Years of Trapper's Post on CD
BUY NOW AT A REDUCED PRICE!

Please Note: you will need a pdf reader such as Adobe Acrobat to access the files. This CD will not play on televisions or personal DVD players.
The underwater bottom edge set revolutionized mink trapping because it allows traps to keep functioning despite fluctuating water, ice, and snow. It is deadly on both mink and muskrats. The set needs only a #110 Conibear and a length of wire, and can be made in seconds, allowing lines of hundreds of traps that operate for the full season. Location is the heart of this set, and this DVD shows and explains in detail how to find productive locations. 2 hours.
Bottom Edge Mink Trapping DVD by Bob Noonan







Don Shumaker has been a trapper for 62 years. Much of this time has been spent as a professional predator control man. He will share with you his methods for taking those wily stock killers that no one else can catch.
This 24-page booklet is packed with advanced coyote killing know-how. No rehash of dirthole and flat sets. Five different sets are covered that will make anyone a better coyote trapper. His discussion on bait alone is more than worth the price of this booklet.
For the first time in print you will learn about THE REVOLUTIONARY MUZZLE SNARE SET!! 24 pages.

The Advanced Coyotero - MORE COYOTE MASTERY

Woodsbum - A true story of a life spent in the woods
Since the dawn of history some men and women have been driven to spend their lives in the woods, the open spaces, or on the water, far from the hassles and shackles of society. Caring little for wealth or social position, they covet instead freedom, quiet, solitude, and a close association with all things wild.
Don Shumaker is such a man, and Woodsbum tells the story of how he wrested a quiet but adventurous living from God's great outdoors in a hectic modern world. 240 pages, large 6x9 size, numerous color photos.

Follow the Dream - A Novel by Don Shumaker
Young hunter and trapper Sam Carns left the Blue Ridge Mountains of Virginia in 1860, headed West to get away from people and become a mountain man. With his nerve, grit, determination, two mules named Red and Katie, and a hound called Rattler, he faced many perils in a beautiful but often harsh land.
Follow the Dream tells how Sam adapted quickly, befriending two famous older mountain men, a tribe of Kiowa Indians, and local ranchers by hunting and trapping wolves, bears, and mountain lions. He encountered danger daily – and he lived history. This is his story. 186 pages.

Odorless Skunk Removal by Bob Noonan
I've trapped over 1,000 skunks while nuisance trapping. This book describes how I do it without them spraying. This is essential for client satisfaction, especially in suburban and urban areas. (After all, they hired me because they're afraid the skunks will spray.) It is also very useful when fur trapping. Skunk essence is very valuable right now, and euthanizing skunks with this method results in glands full of essence.
This method uses chloroform to daze the skunks, and make them much less apt to spray and easier to handle. Chloroform is safe to use, does not require special training or licenses, and is very affordable.
Book includes: Step-by-step, clear, detailed instructions; Equipment list; Where to get chloroform; 100% effective skunk spray deodorant recipe using inexpensive household ingredients and more!
24 pages, 16 photos and drawings.

Fisher Trapper's Guide by Bob Noonan
An in-depth coverage of all aspects of fisher trapping, based on the author's experience trapping hundreds of fisher, his interviews of experts with thousands of catches between them, and modern scientific studies. Topics include: fisher biology and behavior, territory size, travel patterns, habitat preference, diet, footholds and bodygrip sets, bait and lure, fur handling, and an extensive 11-page location chapter. Numerous drawings and photos. 95 pages.

Bottom Edge Otter & Beaver by Ken Smythe, as told to Bob Noonan
he bottom edge set, made with a #220, #280, or #330 in the right location, is deadly on beaver and otter. This book, by the developer of the bottom edge set, explains in detail what size traps to use where, how to make the set, the effects of weather, and how to find specific beaver and otter locations. Location is the heart of this set, and this book describes it in detail, with numerous photos and illustrations. 63 pages.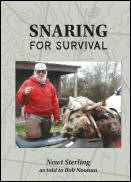 The coyote is a mystery to many. Found in nearly every corner of North America - wilderness, farmland, desert, swamp, seashore, suburb, city - they are nevertheless one of our most misunderstood animals.
The author, Don Shumaker, has spent most of his life studying, pursuing, and controlling wildlife, the coyote in particular. He has seen and learned much, both on his own and from some of the most knowledgeable wildlife experts in America. This book takes you into the real world of the coyote. It contains information you will find nowhere else. 250 pages, large 6x9 size, numerous color photos.